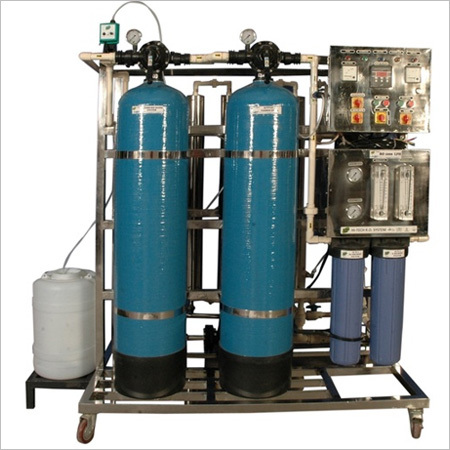 Water RO Plant
Product Description
Best suited for small and large scale industries, our manufactured range of Water RO Plant is highly acknowledged among clients. This type of plant is designed in a such a manner that it can be easily configured according to the requirement of output water. Ensure to produce high-quality of demineralised water suitable for varied industrial applications, the offered Water RO Plant are integrated with systematic program that accurately studies the chemistry of water and according to that treats the water.
Features
Selects the most suitable membrane configuration
Gives a low water-rejection rate
Easy and quick to install

Further Details: RO 1200 Series produces 1200 liter per hour. This series consist RO 1200 MS, RO 1200 SS & RO1200 DLX. High quality systems built to meet your flow requirements for colleges, hospitals, industries, water packaging etc.

Pressure Sand Filter : 13 X 54 Vessel Containing Gravel & Sand.

Activate Carbon Filter : 13 X 54 Vessel Containing Gravel & Carbon.

MPVF : 1 Multi Port valve ( Nylon ).

Pre Filter :20 X 20Micron PP Filter USA 1 pcs, 20" X 5" Micron PP Filter USA 1 pcs.

Grundfos Pump : CR 3 / 23 ( SS 316 )

Feed Pump : Smart Make 1 HP. Grundfos Make.

Membrane :40 X 40 ( 4 pcs ) Hydronautics, Desal, Filmtec, Koch.

Pressure Meter : 4 Pcs.

Auto Flushing : Solenoid Valve (Korea).

Automatic on & off System : Radar switch.

Indicators : Power, Working, Low Pressure, High Pressure,Flushing.

Electrical Panel : Volt Meter, Ampere Meter, Rotary Switch, MCB Switch.

Production Rate : Upto 1200 Lph.

Feed Water : 2000 ppm. Max. (Raw Water)

Reject Water : Appx. 50%.

Power Consumption : 5 H.P ( 3 Phase ).
Quality
M.S
Made in MS metal & powder coating and SS 316 L Housing
S.S.
Made in SS 304 with SS 316 L Housing
S.S. DELUXE
Made in SS 304 with SS 316 L Housing




Standard Module
Feed Pump
For Pressurised Feed of Raw water
Sand Filter
Removes suspended Particles
G.A. Carbon Filter
Removes heavy organic impurities and dissolved gases
High Pressure Pump
Create Osmotic pressure for the Reverse Osmosis pressure
Membrane
Dissolve Solids up to 0.0001 Micron
Final Polishing Filter
Maintained pH vale of water
S.S. Skid
S.S. 304 quality Skid to mount the whole system




Optional Modules that can be attached
UV
To Sterilize the water
DM
To Demineralise the water
Ozonator
To disinfect the water
Softner
To remove total hardness before R.O Process
Cleaning In Place Systems
To Clean the Membrane
Trade Information
Ready to stock Per Week

14 Days