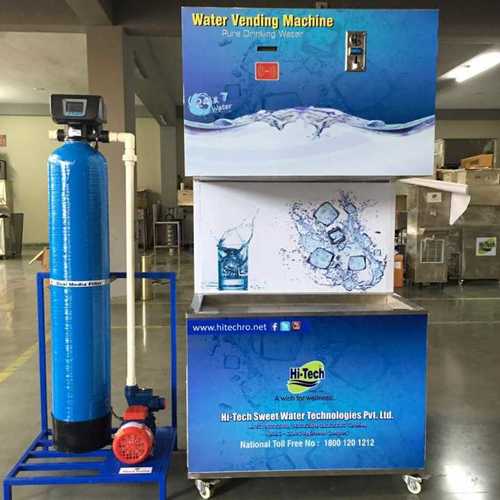 Water Vending Machine
Product Code : WVM
Product Description
Special features
Advance water purification systems with pre-filtration +Ro +UV systems gives the water quality accordingly to national standard.
24-Hour uninterrupted RO+UV sterilization guaranteed cold pure water.
Cabinet model design for safe and healthy, durable and easy installation.
Cold water dispensing on card/coin with very low cost.
The water vending will display an alert if the tank level is now and if the voltage is low.
With no balance can be recharge through a password on the water vending itself.
Last 50 recharged transactions can be viewed.
Rate in paise per Liter can be programmed through password.
Battery operated dispending system.
Introducing smart card & coin system for billing accuracy.
SMS alert for Recharge & Dispensing of water.
Accountability for daily business operation.
Remote monitoring System.
Permits new 1/2/5/10 rupee coin.
Pure water production capacity:
50,100,250 LPH, 3000 LPh
WATER SOURCE: Bore Well, Tap Water, Open Well Water
PURE WATER STORAGE TANK: 250 Litter.
DISPENSING FLOW: As Gravity
POWER: AC 220 V
BOTTLE FILLING SIZE: 300 ml Glass / 1 Lit Bottle / 20 Lit. Jar